Why is Hotel 140 the best option for you?
Location:
If location is your main concern, our address is prime! Situated between Boston's traditional Back Bay neighborhood and the city's trendy South End, Hotel 140 offers unparalleled access to some of the city's best restaurants, shops and attractions. For visitors arriving via Amtrak service, the Back Bay train station is a mere five minute walk from door to door. The hotel is also conveniently located midway between the Orange and Green "T" lines for those wishing to explore the city using Boston's historic subway system.
Rates:
The rates at Hotel 140 are typically 30% lower than those available at surrounding properties in the Back Bay area. Special promotions are frequently offered and may be found on our website or by calling the hotel directly at 617-585-5600
Ambiance:
Located in one of Boston's most notable historic buildings, Hotel 140 offers compact rooms in a charming setting. Stylishly appointed, each room is equipped with contemporary amenities such as mini-refrigerators, flat screen TVs and complimentary Wi-Fi. At Hotel 140 you will enjoy all the comforts of home in a casual yet elegant atmosphere, reminiscent of the nostalgic charm of a bygone era.
Staff:
Hotel 140 takes great pride in the highly personalized service offered by our friendly, approachable and knowledgeable staff. From pre-arrival itinerary planning, to recommendations for dining, shopping and entertainment, our Front Desk team stands ready to lend a hand. For our guests' convenience, our reception desk is staffed twenty four hours a day, seven days a week.
What do our guests say about their stay?
The majority of our guests are extremely satisfied with their stay. Prior to making a reservation, however, we suggest that prospective guests take a moment to review our website. Phone and email inquiries are also encouraged. Our Front Desk team is always happy to answer additional questions and to note any special requests that may pertain to forthcoming visits.
Guest Room Square Footage:
We do offer various types of guest rooms, with a variety of bedding options. As an historic property however, some of our room sizes tend to be smaller than those found at more contemporary neighboring properties. We are happy to discuss room requirements with guests prior to arrival and will make every effort to accommodate special requests as availability allows.
Guest Room noise:
As with most urban hotels, ambient street noise is a factor to be considered. The fact that our hotel rooms are located on upper level floors tends to mitigate much of the problem. For light sleepers, however, complimentary ear plugs are always available at our Front Desk.
Guest Room Views:
Our hotel rooms offer either street views or interior views of courtyards and rooftops. While we do our best to accommodate view requests, our building is designed with specific room types which vary from floor to floor and requests for specific views cannot, unfortunately, always be guaranteed.
Check in and Check out times:
Check-in is at 3PM and check-out is at 11AM. What do I need in order to check-in?Guest must be 21 years of age and show a Government issued photo ID upon arrival. Additionally, a major credit card such as Visa, MasterCard, Amex or Discover is required to complete the check in process. Typically, the credit card is authorized for the total amount of the stay plus a small additional deposit to cover any incidental charges. Unfortunately, we do not accept cash deposits; however, guests may settle the final bill by paying with cash at the time of departure.
Is smoking allowed in the rooms or in the hotel?
Hotel 140 is a 100% Non-Smoking Hotel. A penalty fee of $250 will be applied if evidence of smoking is discovered in a guestroom.
How much do you charge for wireless high speed Internet access?
Wireless high speed Internet access is complimentary for hotel guests.
Do you have wired high-speed Internet access available?
Only wireless Internet access is available throughout the hotel and guestrooms.
Do you have a Fitness Center? Pool?
Unfortunately, we do not have either a fitness center or pool on site. Guests may purchase a day pass to The Boston Sports Club which is located just 2 blocks from our front door.
Do you have a Spa?
No. There are several highly recommended spas within a 5-10 minute walk of the hotel. Please contact the Front Desk for additional information.
Do you offer Room Service?
Room Service is not available. However, a copy of the Local Dining Delivery Guide, which features menus from over two dozen area restaurants, can be found in all of our guestrooms. Our Front Desk staff members are also happy to provide recommendations for dining options in the surrounding neighborhoods. A large grocery store which is open 24 hours a day is also available and is within a 10 minute walk from the hotel.
Do you have a Business Center? What are the hours?
Currently, we do not have a Business Center. However, members of the Front Desk Staff are available 24 hours to assist with printing of boarding passes or ticket purchases. For larger print jobs or business requirements including shipping needs, a business supply store is located one block from the hotel.
Transportation - How do I get to the hotel?
Please see "get directions" on our location page

Do you offer free Shuttle Service from Logan International Airport?
No. Hotel 140 is approximately 4 miles from Boston's Logan Airport. Transportation from the airport includes taxi service and the 'T' which is Boston's subway system. The taxi fare ranges from $28-$32, and is a 15-30 minute ride depending on traffic volume. The subway fare is approximately $2.75 and is a 35 minute ride depending on connections. Additionally, the Logan/Back Bay Express Bus operates a daily direct shuttle between the airport and Copley Square which is about a five block walk from Hotel 140. Please see "get directions" on our location page

What are your cross streets?
Stuart and Clarendon Streets.

Do you have on-site parking?
No. We do offer validated, discounted guest parking at the Garage at 100 Clarendon which is adjacent to the hotel.
Will your rooms allow rollaways/cribs/playards?
Unfortunately, due to the size of our rooms, we are unable to accommodate requests for rollaway cots. For guests travelling with infants, however, we are happy to provide complimentary Pack-N-Play cribs upon request.

I booked on a website other than the Hotel 140 Website and I need to make a change to my reservation. How do I do this?
You must contact the website with whom you originally made the reservation. We cannot change or edit third party website reservations.
What is the minimum age requirement to check-in to the hotel?
21 years of age with valid Government issued photo ID.
What is your Cancellation /Deposit Policy?
If booked directly through the Hotel, we have a 48 hour prior to arrival cancellation policy on most reservations. You must cancel by 12 pm Eastern time 2 days prior to check-in to avoid penalty equivalent to one night's stay. On certain reservations a special cancellation fee may apply. If booked through a third party, please contact the booking agent directly for cancellation policies.

Do you have any connecting rooms?
No.
Do you have an Early Departure Fee?
Any early departures or late cancellations (less than 48 hours notice) will be charged for a one night stay room and tax.
I have questions about my bill. Who do I call?
Call Hotel 140 at 617-585-5600 and ask to speak with a manager.
Are any pets allowed?
No pets are allowed, with the exception of Service Animals accompanied by appropriate documentation.

I want flowers/chocolates/champagne/gifts sent to the room. How do I do this?
Contact Hotel 140 for assistance sales@hotel140.com or call 617-585-5600
Do you offer meeting space at Hotel 140?
Yes! We offer a variety of meeting space options. Contact Hotel 140 for assistance via email at sales@hotel140.com or call 617-585-5600.
Food
Viga Italian Eatery
When you're in the mood for fresh, affordable Italian fare, look no farther than Viga Italian Eatery, conveniently located on our lobby level.
more details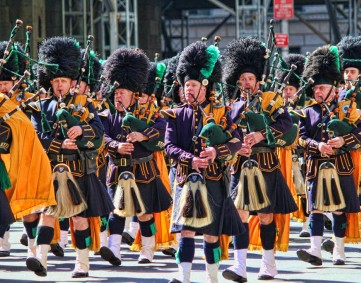 Staff Picks
Saint Patrick's Parade of Pipers and Marshals
As everyone knows, Boston's Irish population repre...
more details
Theater
The Lyric Stage Company of Boston
Boston's oldest professional theatre, The Lyric Stage has observed and been a part of a great many changes in the local theatrical scene.
more details