Brunch, anyone?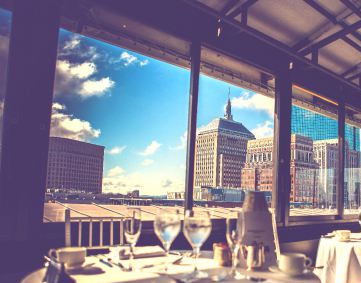 Brunch, anyone?
One of the best parts of being away from home is getting to taste the local flavor, and one of my favorite meals in which to do so is Brunch. Hotel 140 is so fortunate to be surrounded by a number of spots that have elevated brunch to new levels. From celebrity chefs (think "Chopped") to sky high views of the city (think Prudential Tower) we have listed just a few of our favs below.
The Beehive
Quintessential South End experience. Saturday and Sunday live Jazz Brunch housed in an esoteric, exposed brick split level at 547 Tremont Street. The menu changes often, so what you find online may be different than what you find in person. But the fare is bold and local. The chef, Rebecca Newell (who has appeared on "Chopped") sources local ingredients and elevates their flavors with her experienced, well-traveled and well-trained flair. Specials on a recent visit included "Bass Cakes" (crab cakes made with Sea Bass) topped with poached eggs and Hollandaise, Truffle Potato Peirogis, Fall-off-the-bone Ribs, and SAGE and Sea Salt Fries (YUM!). The libations are as distinctive as the friendly and well-dressed staff that serves them. To walk here from Hotel 140, take a RIGHT onto Clarendon and LEFT onto Tremont. The Beehive Café is on the LEFT at 547 Tremont. Inside tip: We DEFINITELY suggest making a reservation well in advance.
Salty Pig and Coda
*Website: http://thesaltypig.com & *Website: www.codaboston.com The Salty Pig was named one of Boston's "Best New Restaurants" in 2011. With a fresh concept (cool charcuterie with a sense of humor, crafted beers and bartenders willing to invent concoctions on the spot, music that will bring you back to your college days and FAR SIDE cartoon wallpaper in some parts of the restaurant), we agree! This is the perfect time of year to sit outside under their bright umbrellas and check out their brunch menu. Greek yogurts, slow poached eggs with prosciutto cotto, Beer soaked Swiss cheese with sunny side eggs. Or you can order a traditional "Board" which is a wooden slab on which you can pick as many cured meats and artisan cheeses that you like. DO NOT MISS: the chicken liver pate, Chianti jelly, and Comte Cheese. To walk here from Hotel 140, take a LEFT on Stuart Street, LEFT on Dartmouth Street and follow the wonderful Piggy smell. Salty Pig is at 130 Dartmouth Street, on the right, directly across the street from the Back Bay Train Station. Or?¦continue down Dartmouth Street one block and turn LEFT onto Columbus Avenue. At 329 Columbus (2nd door down) you will find the cheery red flag of Salty Pig's sister, CODA. When the "Pig" is too packed, CODA is a great way to get many of the same flavors and authentic Boston feel. Similar menu items and bar list, Coda was a pioneer in the area of sourcing from local farms and purveyors. Do not miss the "Salty Pig Board", the Mac-n-cheese (elevated with pancetta and peas), or the PEI Mussels with fennel and Pernod.
The Prudential- Top of the Hub
*Brunch Menu: http://www.selectrestaurants.com/tophub/pdf/2044-BR.pdf For the Vegetarians and Vegans, this is the spot. With many options that fit with these lifestyle choices, you can enjoy some of the best tasting foods without worrying about whether it fits with your diet or not. The chefs have also adopted preparation methods for those with food allergies and they really cater to the individual at Prudential. Their menu features many seafood options and they only use the freshest ingredients every day.
Abe & Louie's
*Brunch Menu: http://www.abeandlouies.com/index.cfm?pid=10245 Abe & Louie's is decorated to give you the inviting atmosphere you are looking for with courtroom style chairs, large Hollywood-style booths and bronze chandeliers. The traditional mahogany detailing and faulted ceilings at a touch of elegance for diners as they enjoy a full brunch menu. Eggs Benedict Three Ways (filet mignon, crab cake, and lobster) as well as a decadent raw-bar are some features of Brunch at Abe and Louie's. Other items include classic brunch fare such as blueberry pancakes, French toast and fresh fruit cocktail. Located at 793 Boylston Street, outside dining on the patio lets one indulge in the paradigm of Boston people-watching. To walk here, go LEFT on Stuart St, RIGHT on Dartmouth and LEFT on Boylston, (just past the beautiful Boston Public Library.) Abe and Louie's will be approximately 4-5 blocks on the right hand side.
Taj Rooftop Champagne Brunch
*Brunch Menu: http://www.tajhotels.com/Luxury/City-Hotels/Taj-Boston-Boston/Fine-Dining/Sunday-Brunch.html The Taj Rooftop Brunch combines stellar views with an almost overwhelming amount of food and divine service. With vistas of Boston Common, Beacon Hill, the Financial District and Back Bay, one is immediately awed by the skyline and greenery. The food consists of everything from the traditional (fruit, omelets, pancakes, waffles, prime rib) to the decadent. There are endless raw bar items, sushi, and always a few selections of delicious Indian dishes. There are selections of filet mignon, seared Ahi tuna, yummy tortellini with pesto and plenty for vegetarian friendly options?¦and a whole additional table of desserts. At $69/person, champagne is included and reservations are certainly required. We personally recommend booking a 1 PM Brunch reservation and plan on a very light dinner. And I would be willing to say it is a "must-try" while in Boston. It is simply the perfect venue for planning your Sunday activities in the city while viewing the roof-tops. To walk here from Hotel 140, take a LEFT on Clarendon and a RIGHT on Newbury. The Taj is on your LEFT, abutting Boston Common. Elevators to the 17th floor. It is about a 10-15 minute walk or a 5 minute cab ride. Choosing the right spot near Hotel 140 for your brunch is not always easy, but what a marvelous dilemma to explore. There are many great brunch places in Boston and if you are looking to experience more than just the amazing food, any of the top Boston brunch places above will offer you the full experience. We would love to hear where you have been and what you have enjoyed below! Cheers, Hotel 140